As featured in Round About LaGrange

---
Artisans statewide credit
'Kentucky Crafted: The Market'
for their financial success
Agency will mark its 20th anniversary with March 2-3 show
By Helen E. McKinney
Contributing Writer
Since the early 1980s, Kentucky artists and craftspeople have relied on "KY Crafted: The Market' to help them develop their skills and market their wares throughout the region and other states.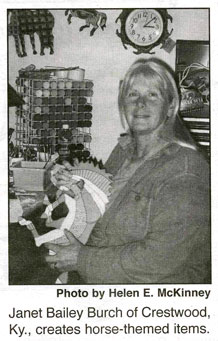 Each year, the program puts on a large trade show at the Kentucky Fair and Expo Center, South wing A, in Louisville, where more than 270 exhibitors meet to display and sell their items to wholesale and retail buyers nationwide. The public is also invited on the weekend, which includes live musical performances and many arts and crafts demonstrations.
This year's show is scheduled for February 28 to March 3 and will mark its 20th anniversary. Featured will be an array of contemporary and traditional crafts, two-dimensional visual art, books, music, food. children's craft activities and cultural entertainment.
The Market was first conceived in 1981 by then- Kentucky first Lady Phyllis George Brown during her husband. Gov. John Y. Brown's, administration. The Market is produced by the KY Craft Marketing Program, a state agency in the Kentucky Arts Council, Education. Arts and Humanities Cabinet, Commonwealth of Kentucky.
The Frankfort-based program's primary mission is to develop the state's craft industry. By supporting Kentucky artisans and craftspeople, the program strives to create an economically viable environment for such individuals.
Janet Bailey Burch joined The Market two years ago. Having little prior marketing knowledge, Burch said The Market "opened the doors for me."
Many times when an artist is new to the scene, buyers won't look at their work, she said. The seminars and classes The Market offers provide insight into the wholesale side of the Grafting business.
Originally from . New Jersey, Burch is "a graphic artist by nature," she said.
She crafts what she has termed, *Punk Ponies.' Her equine-themed art conveys something bright and playful. Burch has lived for the past 20 years on Drawing Board Farm in Crestwood. Ky. The farm name was derived from the fact that "it's the perfect surface" to create on," said Burch.
At any given time of day, Burch can glance out of any window in her home and view horses. "Horses are always an inspiration."
From this inspiration Burch creates mirrors, pins, magnets, clocks, wooden trinket boxes and bridle holders. Her hand-carved ponies are crafted from birch plywood and covered with a gloss enamel paint finish. She said she tries to reason what type of colors would appeal to the person purchasing her artwork. "A bucking horse should be bright," she said to stress her point.
Always on the lookout for patterns, Burch said she considers every object she sees as a potential influence: snakes, flowers, material, quilt patterns.
She also relies on a lot of ancient art for pattern ideas. She garners ideas from the way particular cultures decorated their artwork with their own unique motifs.
Burch said she used to attend craft shows and think to herself, "I can do this." She took the plunge and submitted samples of her work to The Market.