As featured in The Oldham Era

Crafters will showcase wares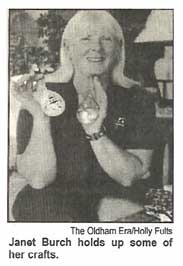 By Holly Fults
Era staff
LOUISVILLE - Two local crafters are exhibiting at the Louisville Craftsmen's Guild Holiday Showcase this weekend.
Janet Bailey Burch of Crestwood and Neal Morris of La Grange are two of 20 crafters who will be showing and selling their work at the showcase. The fair is from 10 a.m. to 5 p.m., Saturday and Sunday, Nov. 3 and 4, at the Water Tower at River Road and Zorn Avenue in Louisville. Admission is free.
Horses are the theme of Burch's work. A New York native, she and her husband moved to Kentucky in 1976 and later bought a farm near Crestwood. "All my life, I wanted horses," she said. When Burch was a child, she started drawing pictures of horses and decided that one day she would have a farm. She even had the name picked out: Drawing Board Farm. She used the name when she moved to the farm where she and her family now live.
Burch has designed horse pins, horse ornaments, horse clocks and even wall art. Another design she works with is a hippocampus, a creature from classical mythology that is part fish and part horse.
Kentucky Horse Park in Lexington has taken an interest in Burch work. "They commissioned me to do ornaments for their catalog," she said. The ornaments appeared on the cover of Kentucky Horse Park's catalog, which is released every October. "I'm a little scared - if they get too popular I could be doing a lot of them," she joked.
Morris, on the other hand, doesn't keep to themes. Instead, he lets nature decide how he crafts an object. "I don't try to make any specific thing," he said. "I use what nature gives me." Morris uses wood-turning, stone-turning and wood carving to make a variety of crafts, including bowls,vases, plates and picture frames.
Morris and Burch will be showing a selection of their work at the crafts fair, both are juried members of the Louisville Craftsmen's Guild, which is the oldest arts and crafts guild in Kentucky. Other items on exhibit include hand-dyed scarves, jewelry, pottery, wall hangings, copper sculpture and stained glass.
Raffle tickets will be sold during the fair for a 6-foot tall artificial Christmas tree. The tree will be decorated with handmade ornaments made by guild members. Tickets cost $5, and proceeds go to the guild's scholarship fund. The annua