As featured in The Courier-Journal 129th Derby Insert

---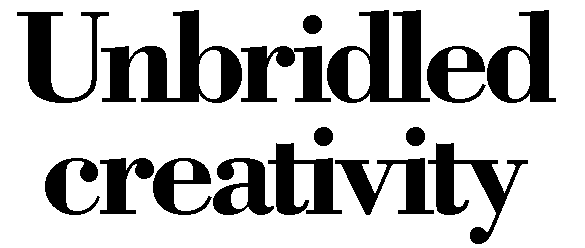 For these Kentucky artists
horses are more than models
By Diane Heilenman
The Courier-Journal
"There's something about the outside of a horse that's good for the inside of a man." - Sir Winston Churchill
The outside of a horse has inspired the inner creative spirit since the ice age. Today horses are a preferred subject for everything from ballcap logos to lifesize sculptures.
The Bluegrass State is widely known as the nexus of thoroughbred breeding and racing. It also is headquarters for the American Academy of Equine Art based in Lexington, which is home to the international Museum of the Horse and the Kentucky Horse Park, a site that draws artists eager to get insider knowledge.
But a handful of Kentucky artists need only look out their back windows or barn doors to find inspiration. For them, horses are more than a subject. They are the stuff of dreams and daily life. Horse-crazy and artistically inclined is a unique combination.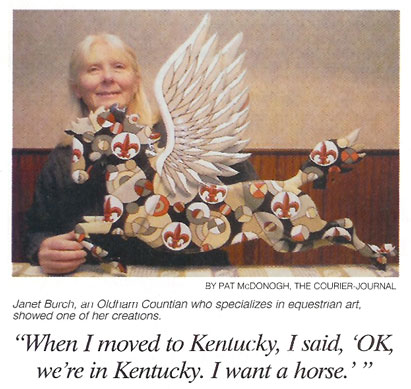 JANET BURCH, dressage judge, coach and trainer, divides barn and arena time with studio time at her Drawing Board Farm in Brownsboro, producing a line of stylized, geometrically patterned horse silhouettes in furniture and jewelry.
"I was a typical horse-crazy child and liked to draw right from the start," she said. Her first drawing at age 2 was of a horse, but, raised in River Edge, N.J., Burch knew early on that horses were a dream.
"When you live in that area and are from a not-so-wealthy family, you don't get to have horses," she said. "I used to ride whenever I could get enough money up."
She longed to own horses and have a farm. "I named it before I ever owned it. I even had a little book with ideas I was going to do when I had a farm."
Her interest in horses may have come from her grandmother, who told stories of her father, a noted horse whisperer in upstate New York, and from an aunt married to a flamboyant farrier who specialized in shoeing pacers and trotters.
Attending Pratt Institute in Brooklyn, Burch had to put horse art on the back burner. "Professors at a college like that really squash you if do something like horses," Burch said.
She kept her horse connection by teaching riding at summer camps. She designed craft kits for a toy manufacturer and married a fellow student, Joe Burch of Louisville. Eventually, they moved to Kentucky so he could take over his father's graphic design business, Dan Burch Associates.
Five months later Janet Burch had a horse. And over the next 25 years, she owned thoroughbreds, competing in show hunters, then moved to eventing, where the hot-blooded thoroughbreds excelled.
A purchase of a draft/thoroughbred horse introduced her to the "warmblood" world and those animals' aptitude for dressage, a discipline often likened to dancing with horses.
Today Burch is training a young filly warmblood she has bred and raised at Drawing Board Farm while logging more studio hours.
She quit making art just for herself — "I wouldn't sell any" - and began to explore the art and craft market in 2000 after being accepted into the Craft Marketing Program operated by the Kentucky Arts Council. Her horse art is, despite the lively surface patterning, based on keen observation and sketches.
She said it's important that the work be based on reality. A recent piece she did for a "Wind" theme exhibition took a long time to develop.
"I wanted to do a group of horses standing with their backs to the wind just like I see them here," she said. "I kept waiting for a storm to do sketches."
It is not always an easy decision of time management to juggle two passions.
"There are conflicts most of the time," Burch said. "I'll turn down a horse show to do an art show, or I'll have to turn down an art show for a horse show."