As featured in Business First, report on Kentucky Derby 129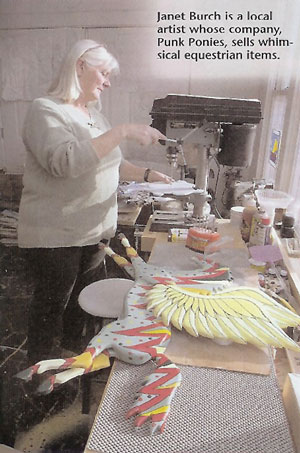 by Nichole Hendricks
Business First Correspondent
Capitalizing on punk
"Derby is my busy time of year," said Janet Burch. a local artist whose company, Punk Ponies, sells whimsical equestrian items, such as mirrors ringed with horses, wall sculptures of horses and horse statues.
She starts preparing Derby items in January and usually has a few hundred jewelry pins ready by May.
"I sell more wholesale to gift shops around Derby and more commissions around Christmas," said Burch.
Burch teaches horseback riding to supplement her income. "About 50 percent of my income comes from the art. The pins are the bread and butter because they are priced comfortably enough that I can make a profit on them, about $28 retail. The larger pieces are less profitable because I have more time in them than I should to be profitable." said Burch.